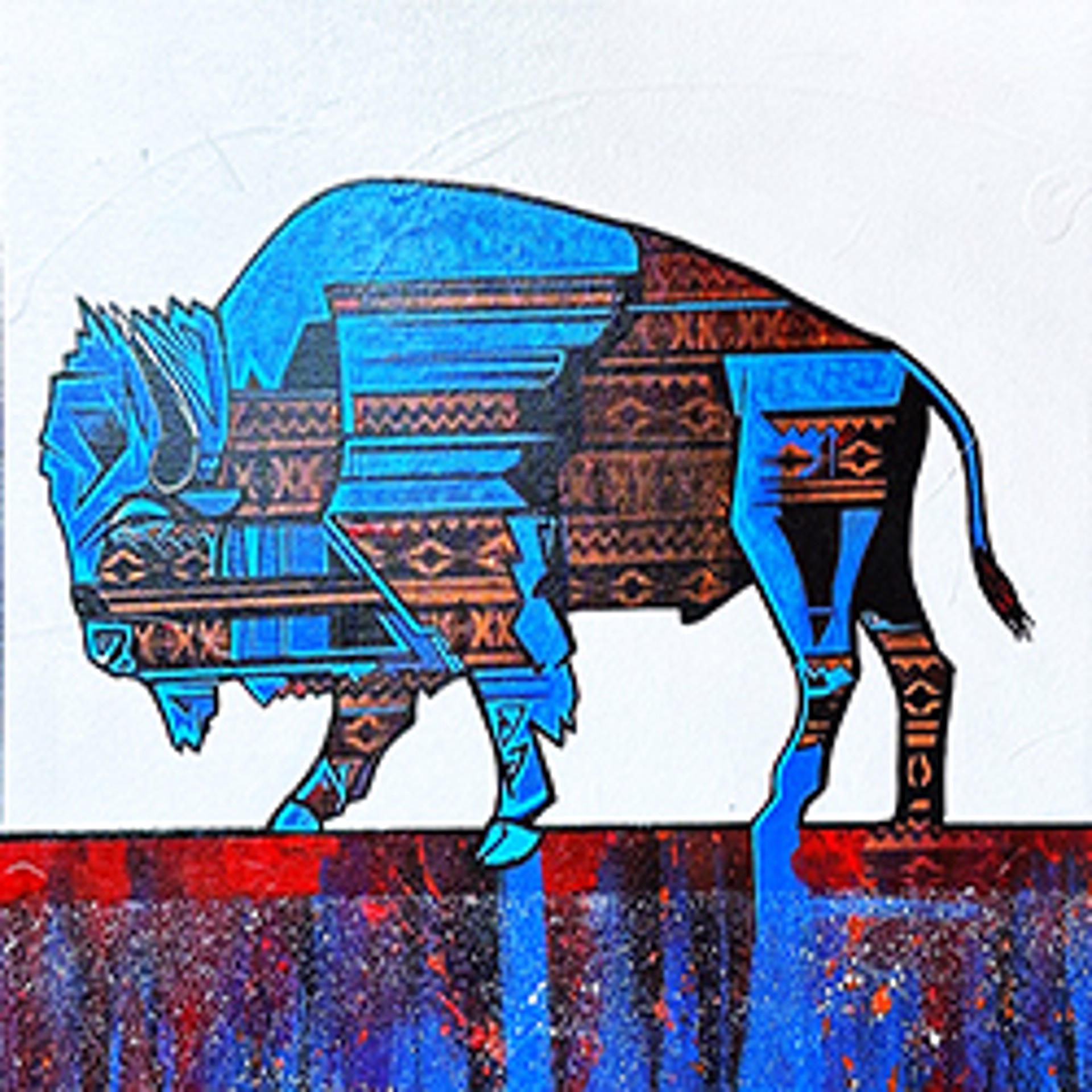 (1975 - )
Quanah Parker Burgess, Comanche artist, was born on in Lawton, Oklahoma and has lived on several different Indian reservations, including the San Carlos Apache Reservation in Arizona and the Fort Peck Indian Reservation in Montana. Parker Burgess attended public schools in Lawton, Oklahoma, and lived in New Mexico for six years, where he graduated from Santa Fe Indian School in 1993. He also studied at the prestigious Institute of American Indian Arts in Santa Fe, New Mexico, from 1993-94.
From childhood, Quanah Parker Burgess began to draw, completing his first painting at the age of six. The artist now continues to paint in acrylics, watercolor and pastels. He began his professional career when he sold his first painting at the 1996 Olympics in Atlanta, Georgia. In 1997, Quanah exhibited his work at the American Indian Exposition in Anadarko, Oklahoma, placing second with a drawing entitled Wolfman Richard Poafpybitty. In 1998 Quanah again placed second, this time in painting, at the American Indian Exposition. He was also accepted into Red Earth for the 1998 and 1999 art shows.
Quanah Parker Burgess is the great, great grandson of Chief Quanah Parker, the last war chief of the Comanches. He is from the Kwahada Band (Antelope Eaters) and a third-generation artist. His older brother is painter Nocona Burgess. His maternal grandfather, Simmons Parker, was an artist and Fancy War Dancer. His paternal grandmother, Daisy (Tachaco) Waters, was an accomplished artist who painted, created leather works, and beaded. His father, Ronald Burgess, is the artist who created the first Comanche Seal which is still used as the symbol of the Comanche Nation.
Burgess's art is characterized by bold colors and characters. His work is included in the permanent collection of the Comanche National Museum in Lawton, Oklahoma, as well as in private and public collections nationwide.
For Quanah Parker Burgess, art is the opportunity to help preserve the culture through Native American subjects and reveal a beautiful heritage that so many know little about.
Read More