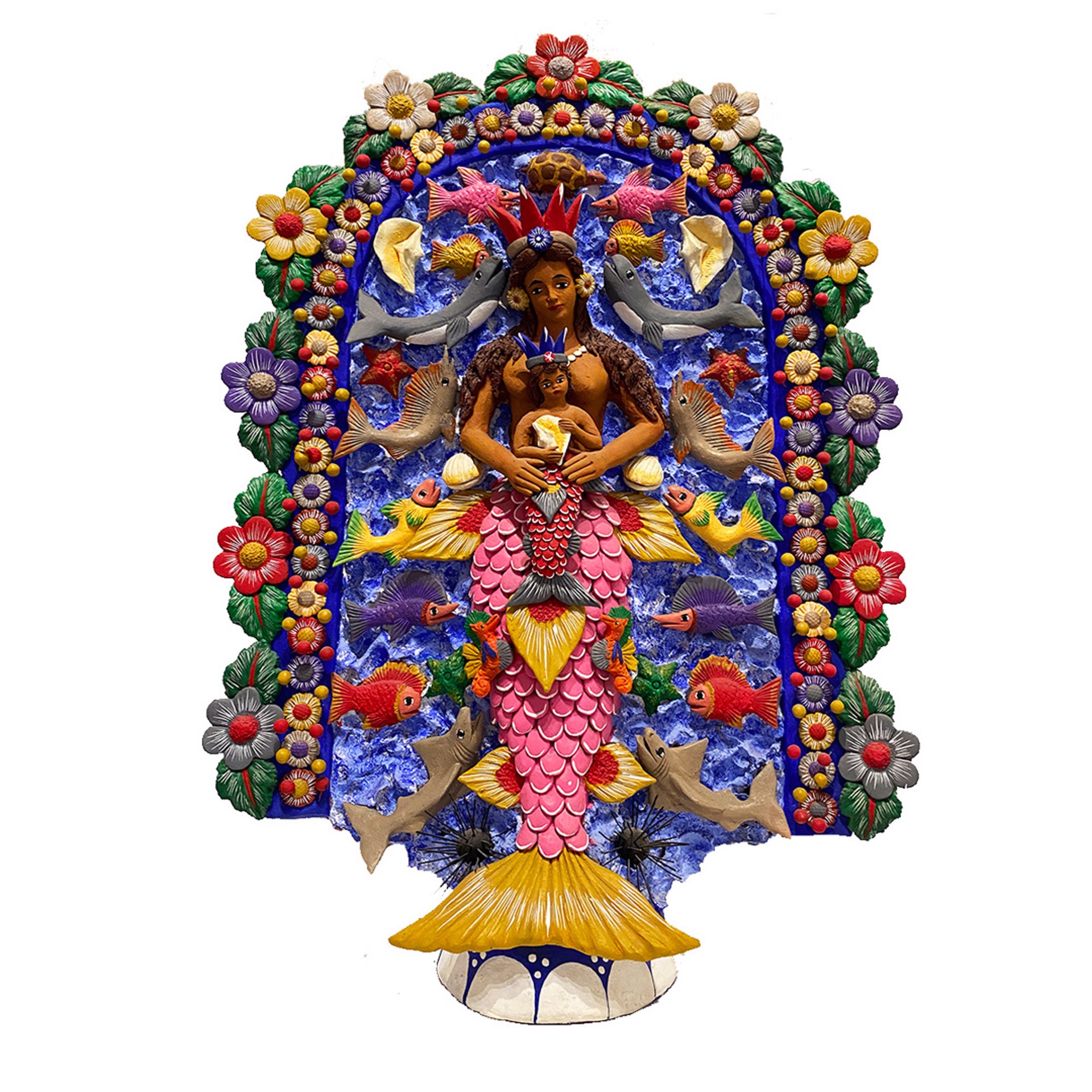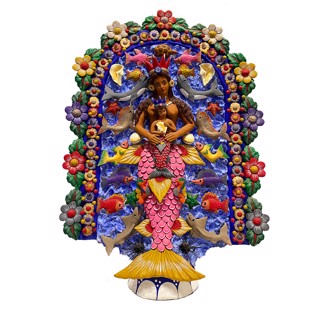 Oscar Soteno is Tiburcio's nephew, the son of Alfonso Soteno. Like the generation before him, he learned to work clay as a child, specializing in Trees of Life as an adult in 1988. Today he runs his own shop with his wife Maria and three other family members. Most of the works from this shop measure one meter high by 85 cm wide although much larger and smaller ones are also produced.[6] Oscar Soteno Elías family workshop is just outside Metepec on the highway that leads to Ixtapan de la Sal. The workshop is dominated by a large courtyard which is in turn dominated by two large brick and adobe kilns where the pieces are fired. Just off the courtyard is the small gallery where pieces are exhibited and sold.[1] Oscar Soteno has also been experimenting with selling his pieces online, especially Day of the Dead themed work for Halloween in the United States, with sales rising.[9]
Oscar has his own niche. He makes the traditional Trees of Life with the traditional theme of Adam and Eve and the Garden of Eden, but he also makes trees with other themes such as the life of Christ, the love story of a couple, and trees covered with monarch butterflies. Occasionally he creates trees with multiple faces, usually three, which cover diverse themes. For example, a tree can have a scene depicting the birth of Christ, the Last Supper and the Crucifixion. Another example is the courtship, marriage and death of a couple.[1] To decorate the trees, fine brushes and paints made himself from natural pigments are generally used. The final piece receives a coat of glue-based varnish. Attention is paid to the details.[6]
Oscar created a tree to honor his grandmother, Modesta, who died in 1987. This prizewinning sculpture features a figure of Modesta, sitting in a chair painting a tiny mermaid figure. The rest of the tree has small scale representations of typical Mexican handcrafts including a miniature Tree of Life. It is to represent what she began making, which at first were whistles and piggy banks.[6] He was also commissioned for sculptures by John Paul II .[9]
Oscar has exhibited extensively in national and international museums.[6] His pieces stand out for the quality of the finish and their variety of rich colors. He has won a number of acknowledgements and awards at exhibitions, competitions and art fairs, including the Galardón Nacional in Jalisco in 1995 and the Premio Fomento Cultural Banamex in 1996.[1] He was selected by the Fomento Cultural Banamex to participate in the organization's program to promote Mexican handcrafts and folk art as one of Mexico's 150 Great Masters of Mexican Folk Art.[6][8]
Read More