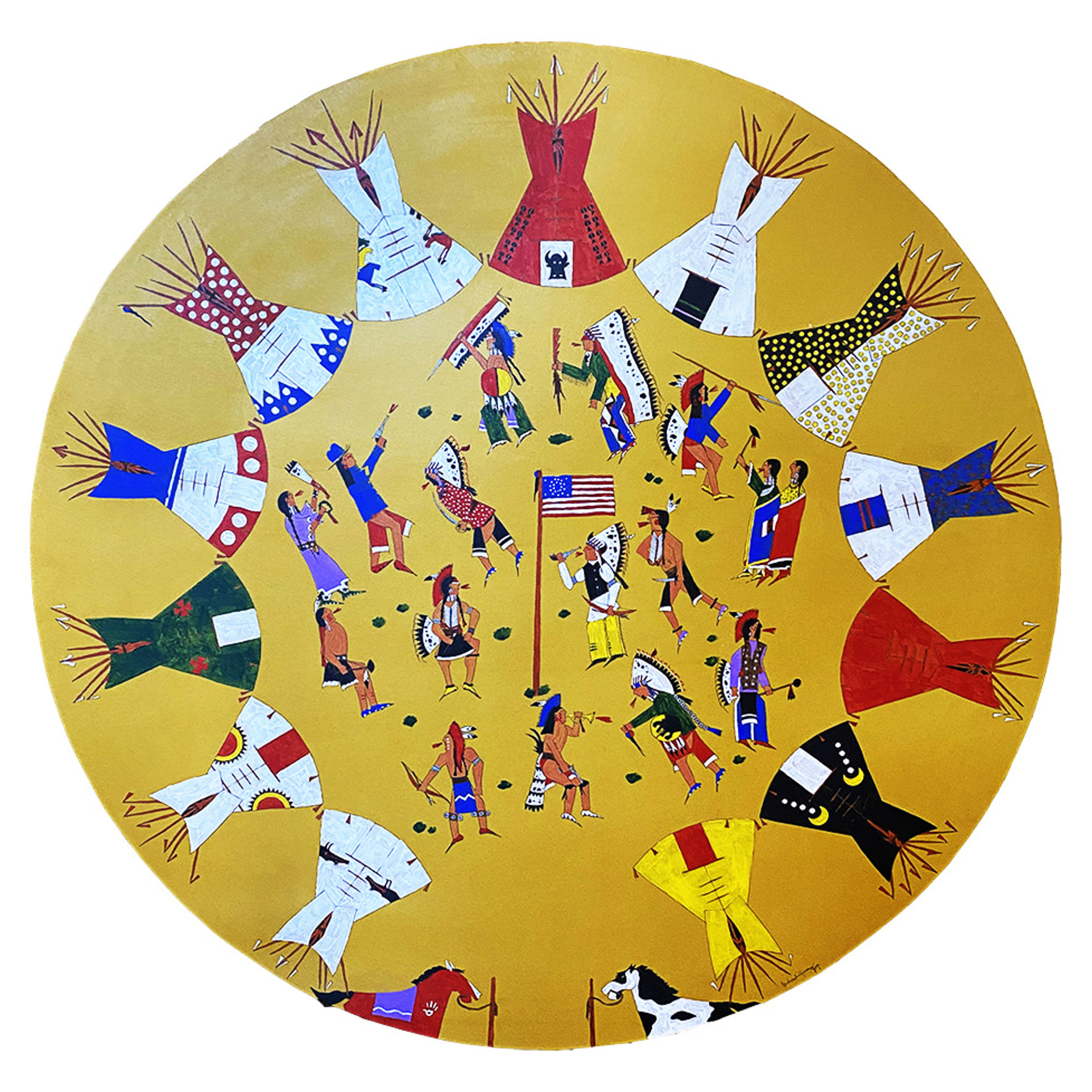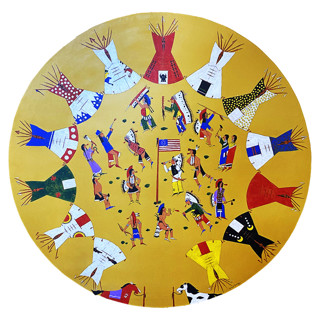 (1949 - )
Michael Horse (born Michael James Heinrich) is an American actor, jeweler, and ledger painter known for his portrayals of Native Americans in film and television. Horse was born near Tucson, Arizona. At age ten, he moved to Los Angeles. His mother, Nancie Belle Posten, was Swedish. Horse's adoptive father, George Heinrich, was born in Florida to parents from Austria.
Horse's film debut came in the role of Tonto in the 1981 movie, The Legend of the Lone Ranger. After appearing in David Lynch's short film, The Cowboy and the Frenchman (1988), Horse portrayed Deputy Hawk, a Native American policeman, in Lynch's TV series, Twin Peaks (1990–91). He also acted in Passenger 57 (1992), House of Cards (1993), the 1990s version of the television series, The Untouchables (1993), and North of 60 (1995–97). Horse also appeared in the Thanks episode, "Thanksgiving," in 1999, portraying Squanto. He appeared as Deputy Owen Blackwood in four episodes of the first season of Roswell (1999). Horse also appeared as Sheriff Tskany in The X-Files episode, "Shapes," in 1994.
Horse portrayed American Indian Movement (AIM) activist, Dennis Banks, in the 1994 TNT movie, Lakota Woman, Siege at Wounded Knee. Eight years later, he lent his voice to "Little Creek's friend" in Spirit, Stallion of the Cimarron. He portrayed Mike Proudfoot on Sons of Tucson. In 1995 he portrayed Dirty Bob in the Western movie, Riders in the Storm. He played the character Jindoga in Hawkeye. In 2017, Horse reprised his role as Deputy Hawk in the third season of TV series Twin Peaks.
He also portrayed Twamie Ullulaq in the seventh season of The Blacklist in 2020.
Horse has claimed Yaqui descent, but is not enrolled or recognized by any tribe. On November 23, 1993, Horse married Sandra Dee Dombrowski in Nevada. An actress, Dombrowski appeared in episodes of Batman Beyond, The Zeta Project, and Days of our Lives. As of 2019, on his personal website, Pennie Opal Plant listed herself as his partner.
While on film sets as an actor, Michael Horse began creating ledger paintings. Ledger painting is a traditional Native American folk art that came out of the reservation era in the late 1800s and early 1900s. Prior to that time, events such as battles and calendars were depicted on hides using traditional paints. When people were removed from their traditional territories and put on reservations they were not allowed weapons of any kind, so no hides. When people no longer had access to the hides they would find any type of paper and implement to write or draw with no record of what was happening prior to being on the reservation, or what life was like being on the reservation.
Michael first saw ledger paintings at the Gilcrease Museum in Oklahoma. He realized this was Native American history by Native American people and was inspired to create. At the time there were fewer than a handful of ledger painters who maintained the art. Now, there are many ledger painters, including women, who continue to keep this tradition alive. Michael says the hardest part about his ledger paintings is finding antique documents from the era when ledger paintings were first made. And, he especially enjoys painting on land grants which gave away Indigenous territories.
*
Read More