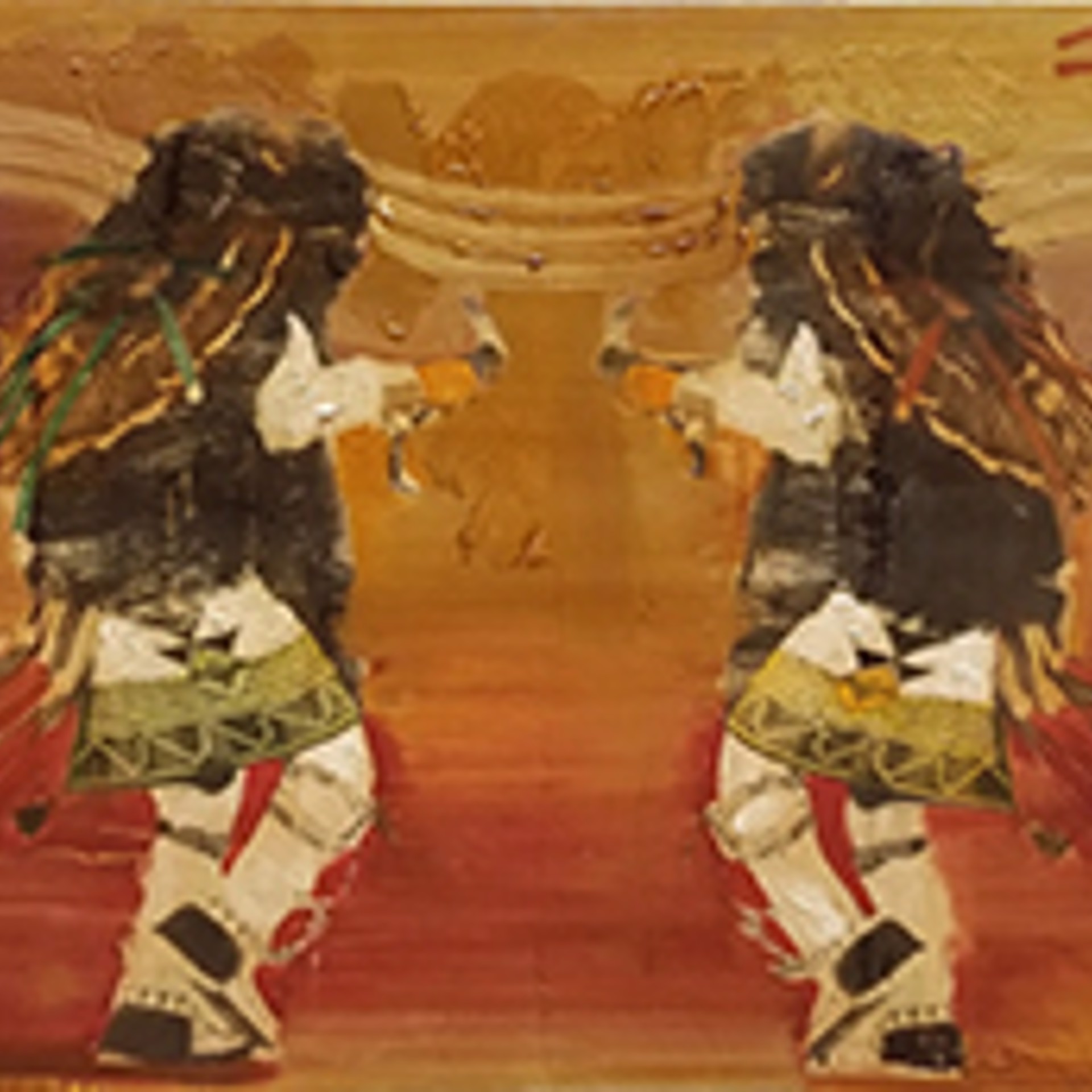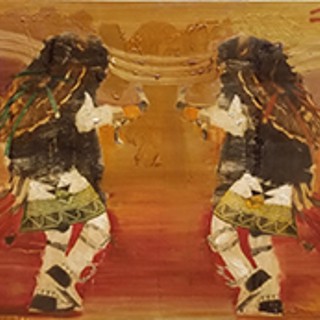 (1966 - )
Contemporary Pueblo painter, Mateo Romero, was born and raised in Berkeley, California. Although his cultural background is an urban one, through his father, Santiago Romero, and his father's connection to their Southern Keresan Cochiti people, Mateo's experience also includes much of the Rio Grande Pueblo world. Mateo Romero attended the renowned Institute of American Indian Arts and Dartmouth College and studied with acclaimed artists Ben Frank Moss and Varujan Boghosian. He began painting narrative scenes providing commentary on contemporary Pueblo life, with his subject matter falling loosely into four categories: "Addictions," "Indian Gaming," "Bonnie and Clyde" and "Voices at Wounded Knee." Romero moved toward mixed-media and began working with historical photographs. His "Dancer" series employs a technique personally invented by the artist that incorporates asphalt into the surface.
"My paintings are based in abstract expressionist references. Bold colors slash across canvas, hot colors vibrate next to cold, drips and smears hover over the surface. Action painting references abound in stabbing, gestural marks. Artists like Franz Kline, William De Kooning, Jackson Pollock, and Robert Motherwell are companions along this urgent pathway of color and surface." -Mateo Romero
Mateo Romero received an MFA in printmaking from the University of New Mexico. In 1999 he created lithographs at Tamarind Institute as a participant in the Trickster Project and in 2008, he was selected to be the SWAIA Indian Market's poster artist.
An award-winning artist, Romero has exhibited internationally in Canada and the United States. He is currently a Dubin Fellow in painting at the School of American Research in Santa Fe, New Mexico. Romero paints in his studio in Santa Fe and lives in Pojoaque Pueblo.
Mateo Romero (and his brother Diego Romero) are the 2019 recipients of the Native Treasures Living Treasures award. This award honors Native American artists who have made outstanding artistic contributions to indigenous arts and culture.
*
Read More