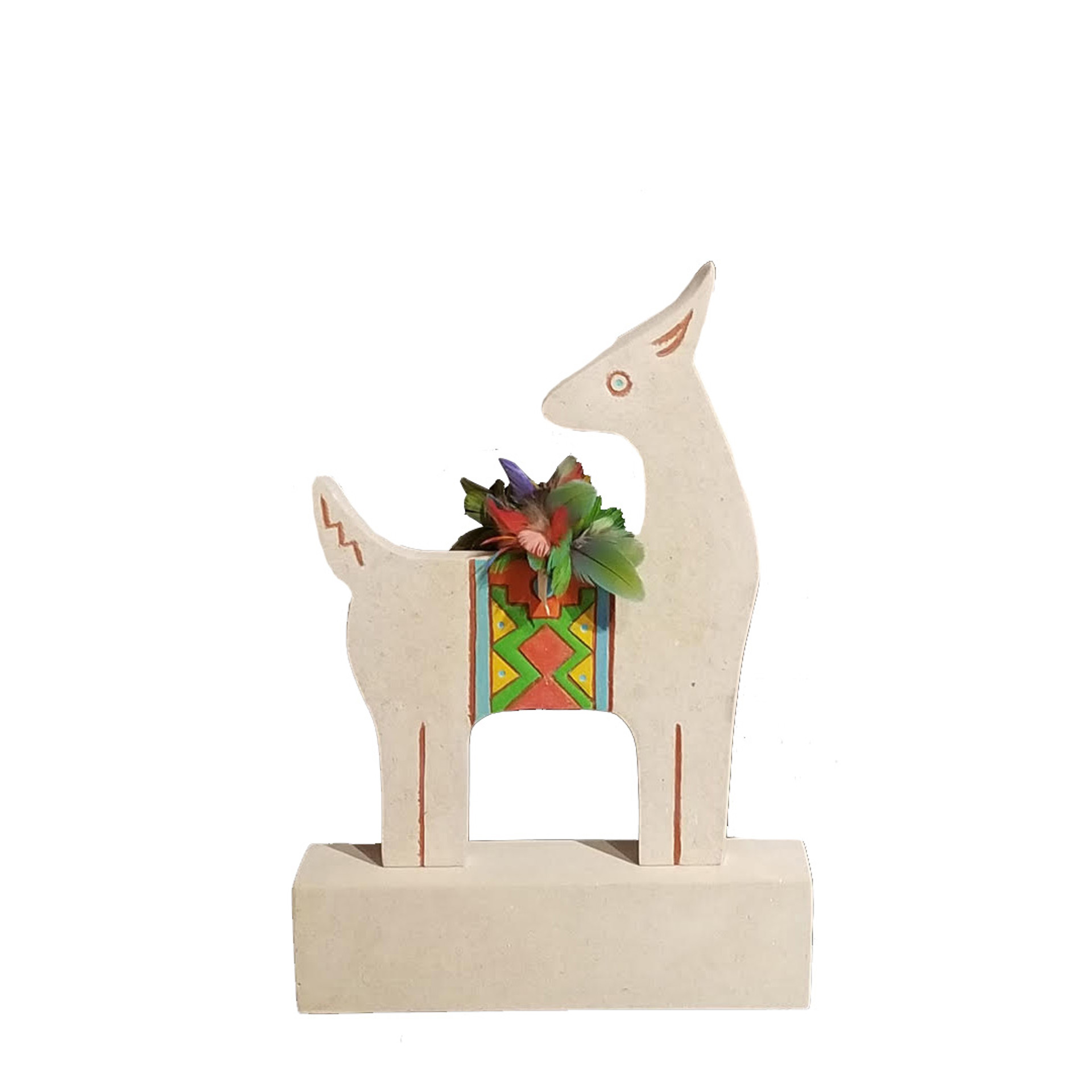 Born in Berkley, California, Mark is the son of noted Tesuque Pueblo painter, Patrick Swazo-Hinds. He moved to the Santa Fe in 1968 and then to Tesuque Pueblo in 1972. After studying art at Haskell Indian Junior College and then the University of Kansas, Mark graduated from the Institute of American Art in 1981.
Mark began by making fetishes in his teens has been creating art his whole life. In 1984 he started exhibiting at Indian Market in Santa Fe, which has garnered him three awards. Marks's work speaks of his heritage and he has collections throughout the United States as well as in France, Germany, Italy and Japan.
The exquisite marble pieces, with rust markings and inlaid turquoise, bears earrings and a ceremonial headdress of parrot and turkey feathers are true to the culture of the Pueblo people. Turquoise, in the Tewa language, is a stone whose beauty is untranslatable in the English language. This is a culturally sound and traditional figure that will remain collectable for many years to come.
He continues to shape and mold figures that bring well-deserved acclaim. His pieces have featured in shows around the country that celebrate Native American art, reflecting an artistry of solid strength and vision.
Mark Swazo Hinds is an avid hunter and fly fisherman and collects many of the artifacts that he uses in his pieces on his frequent trips to the wild. After a piece is completed, he blesses it in the traditional Pueblo style before it is taken to it's next place of resting, be it a Gallery, Show or part of a Private Collection.
Read More