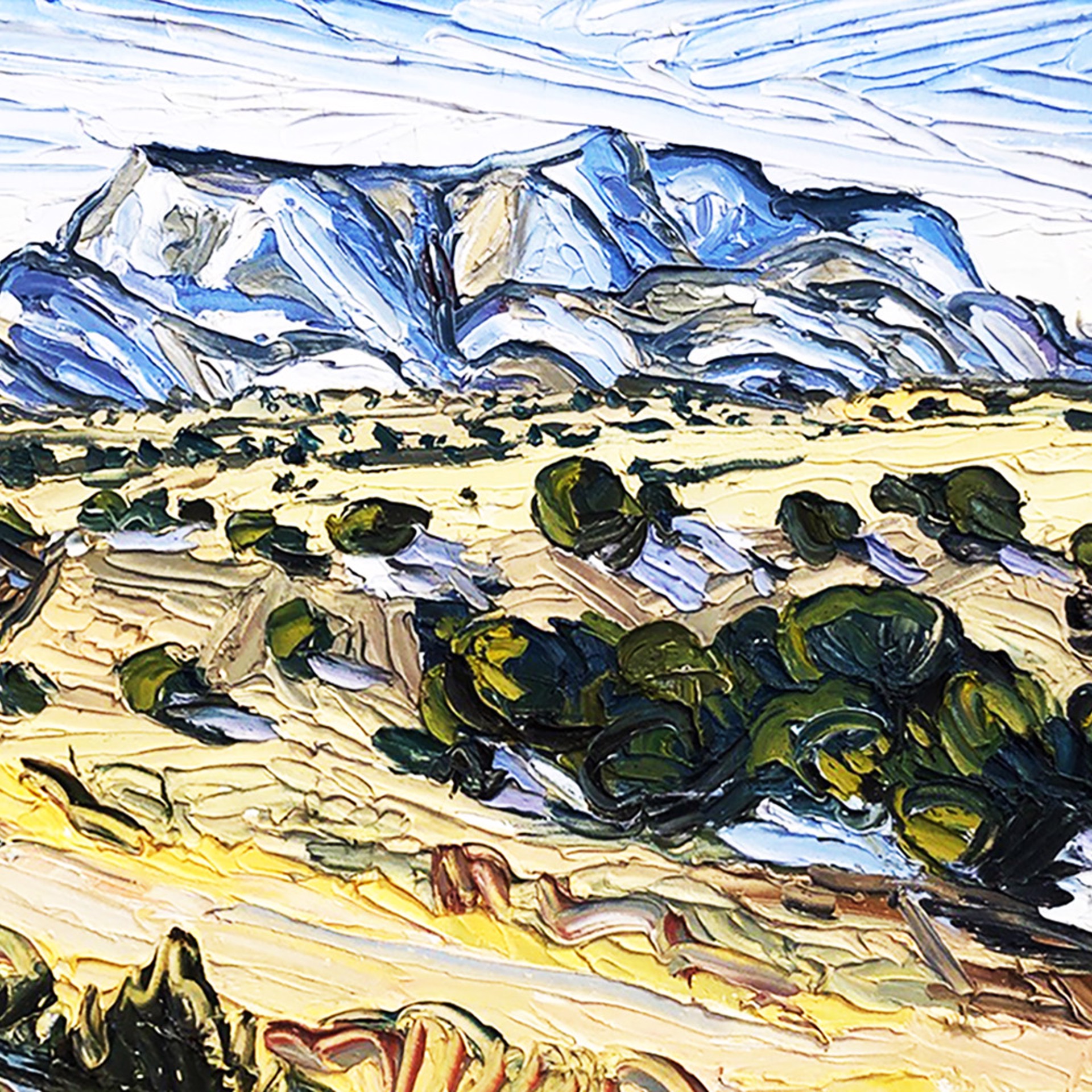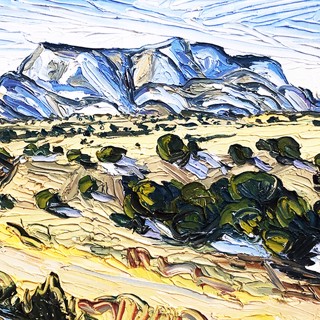 (1953 – 2013)
Louisa McElwain adored summer storms, especially the way the light changes and the clouds dance across the horizon ahead of the rain. Living in the country, 20 miles outside of Santa Fe, New Mexico, Louisa was in tune with the changing weather. If it looked like "one of those days," she was quick to pack up her pick-up truck and head out to find that "power spot" for what she liked to call "a dialogue with nature." Once there, she moved quickly, stapling a large canvas to a makeshift armature mounted on the back of the pick-up. The tailgate provided a table for all of her paint — large globs squeezed in strict order from dozens of tubes. With palette knives and masonry trowels of all sizes, including some attached with duck tape to long sticks, she would go to work.

Louisa was always looking for a balance between her experience with the environment and the physical reality of paint on canvas. She believed "the marks, strokes and gestures of paint express forces of nature, both internal and external." Jackson Pollock once famously said, "I am nature." That resonated with Louisa who believed that this idea of working from the inside out while honoring the rhythms of nature, was the most important contribution offered by 20th century American painters in the Abstract Expressionist Movement. The approach freed many artists who rejected the rigid plein-air approach. "My painterly heritage is the New York School," says Louisa. "I am an abstract painter who paints outside." And for Louisa, the act of creating was a workout — she called it "extreme painting." "I often feel energy, like electricity, surging upward from the ground, through my knees, through my arms and right on to the canvas."
Looking at a Louisa McElwain painting today, the importance of color is clear. Bold strokes of thick paint cut across the canvas forming a collage of colorful shapes that meld together into an abstracted landscape. Louisa wasn't interested in realism. "I like painting with sticks (palette knives) because it disengages my ego — that part of me that wants to be about describing things. I do like to draw and I do like to be right, but when I'm making a painting I want it to be as much about the paint as the motif. The palette knife doesn't allow me to articulate things in a drawing way, but it does have an additional dimension of expressing the sensuous quality of paint. It expresses more of the physicality of the material than I'm likely to achieve with a brush." But what came so naturally in later years, wasn't always inherent. Louisa learned about color from some of the best teachers of the time.
"I have lived and painted in New Mexico since 1985, working outdoors under a wide variety of conditions, open to the impulse of changing light, wind, heat, cold, insects, forces of Nature which bring life into my paintings. For me, painting is a dance to the tempo of the evolving day. Usually, I paint off the back of a pick-up truck, which gives me access to many wonderful places, and provides a way to stabilize and transport large canvases. Here in the West it seems that the canvas is never big enough. To include my entire field of vision at arm's length, 60 x 90 inches is about right. I paint with knives and masonry trowels, which allow me to work fast. Each painting is completed in less than 4 hours, regardless of size, as permitted by weather and light. Painting large canvases outdoors invites another interaction with Nature as, inevitably, insects, particles of plants and soil end up on the painting. I see these as valuable contributions to the work. Sometimes I put little stones, bones or pieces of glass and plants into the paint, in the same spirit as the Navajo weaver who incorporates things into her blanket to bless those who will receive it, and as a way of acknowledging the temporality of things. My process is an inquiry into sensuous potential of paint. To explore the mystery of sensation, to touch that which is known but cannot be measured, understood yet indescribable; the act of painting is an expression of my connectedness with God and Nature. I am Nature."
Louisa McElwain
Louisa McElwain received her BFA degree from the University of Pennsylvania, Philadelphia. Her work is in many private and corporate collections including the Tucson Museum of Art, AT&T, Pepsi-Cola, Nokia and the University of Pennsylvania.
Louisa McElwain's work has also been featured in numerous publications, among them Time Magazine, Southwest Art magazine and the Denver Post.
*
Read More