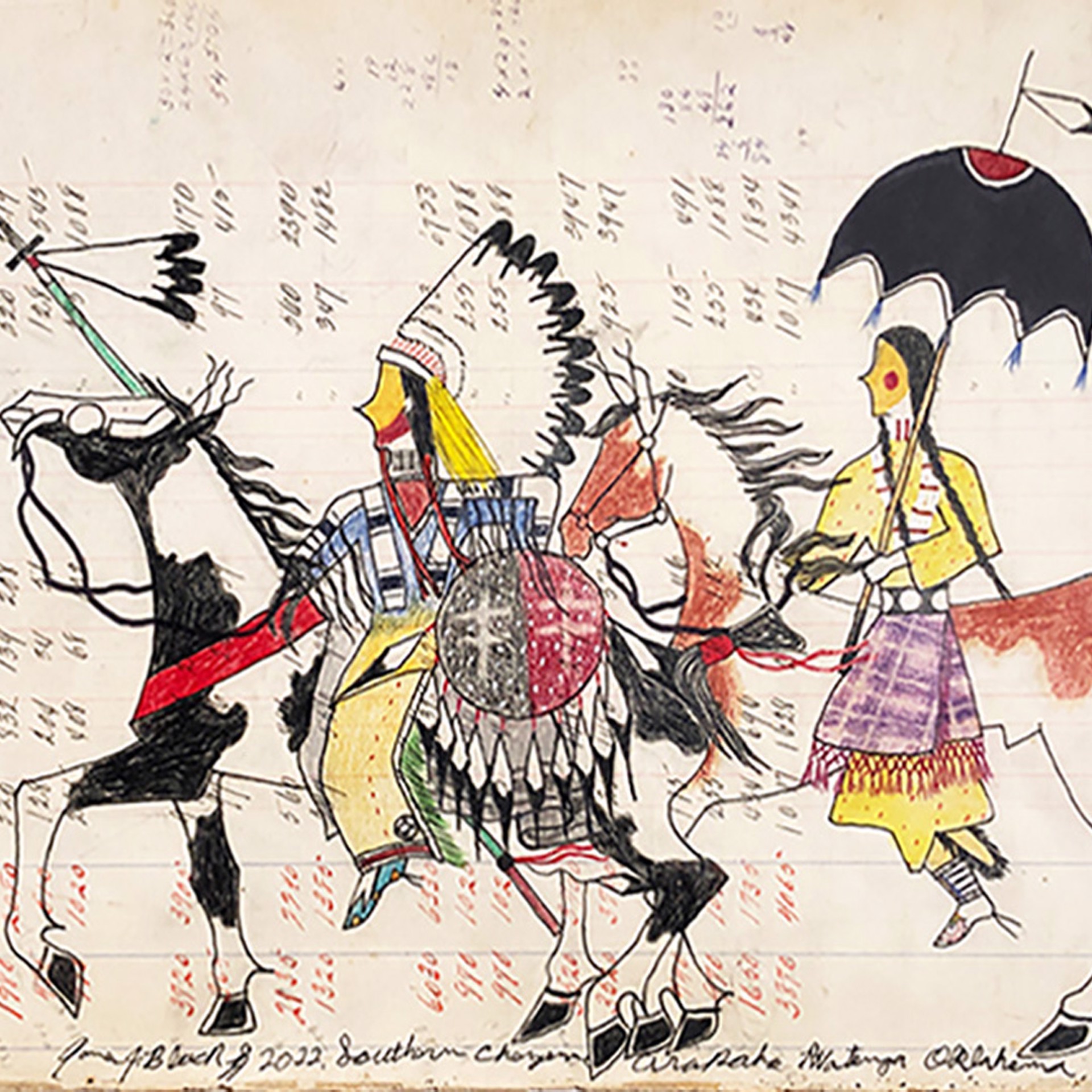 A descendent of one of the original Cheyenne leger artists who was imprisoned at Spanish Fort Marion in St. Augustine, Florida, from 1875 - 1878, James Black is a Southern Cheyenne Sundance priest from Watonga, Oklahoma, a small rural town in the northwestern part of the State. Growing up in a traditional home and being influenced by the heritage of his people, Black's drawings reflect his surroundings. He had always wanted to pursue art, but he did not want to recreate cliched romantic images of so-called "Indian" art. Black knew that his people did more traditional pictographic drawings known as ledger art.
As Black studied and learned about the ledger art form, he found out that it could be about more than drawing Indians fighting on horses. Ledger art could tell the history of his people. The form became more personal for Black and inspired him to begin drawing and creating his own ledger art in 1993.
Today, he exhibits in many art shows and galleries throughout the United States, such as the Santa Fe Indian Market, the Heard Museum, and the National Cowboy Hall of Fame. He displays his work in the Howell Gallery in Oklahoma City, the True West Gallery in Santa Fe, and David Cook Gallery in Denver, Colorado. Black belongs to the Santa Fe Society of Artists and shows his works throughout the summer.
He is proud to be a modern Cheyenne ledger artist and still continues to keep the traditions of his people alive with pride. Currently, he is attending the Institute of American Indian Arts in Santa Fe, New Mexico pursing a degree in museum studies
a descendent of a Cheyenne original ledger artist who was imprisoned at Spanish Fort Marion in St. Augustine, Florida from 1875-1878. Black's style of art began with traditional forms, colors and designs. More recently, the artist has been experimenting with various mediums such as acrylic on canvas.
*
Read More