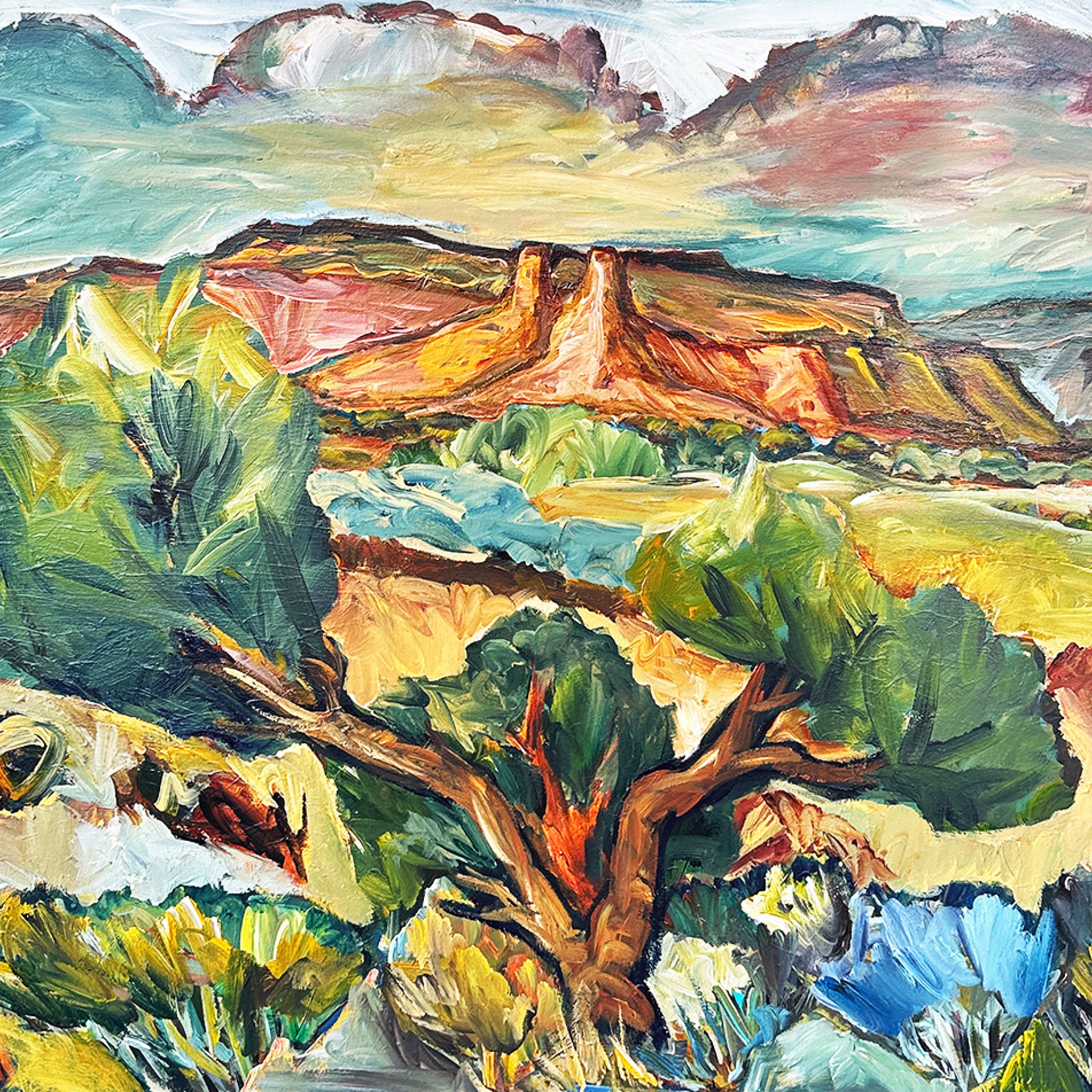 (1959 - PRESENT)

Artist statement: As an artist, painting continues to be a way to speak...a way to face life's most difficult challenges. My choice to live an artistic life stems from a lifelong desire to evolve differently from the others around me. At an early age I escaped the system of the reservation. This decision opened up a whole universe of ideas and sensibilities to me that would help me reach my artistic goals.

At this stage in my career, the reverse can now be said. I desire to go back to my roots, to the place from which I emerged, and to the place where I will finally return...if not physically return, then spiritually and psychically. In certain circles, the trend is to go back to understand and retrieve our indigenous past. The oral history contains great reserves of imagery that I can draw from to express universal ideas, situations and themes. These are the tools that will help me to discover where I have been, where I am now and where I am going.

As a modern Indian and a modern painter, my greatest challenge is to straddle the two worlds in which I exist...keeping one foot in the modern world, without compromising the elements of the natural world that feeds and nurtures my spirit. Most of the time spent in my workplace tends to be a battleground of ideas and of finding new ways to bring life to a two-dimensional surface. The paintings remain a mystery to me, even after I believe that they are complete. I much prefer the idea of artist as mediator...the mediator between the earthly world of paint, and the unearthly realm of artistic creation.

If the paintings are of landscapes, the location invariably remains the same. This process allows me to mold and shape the one locale innumerable times, until I have come away with an idea of what is there. The wonderful thing about looking at and depicting the real world, is that it is never the same for each individual, nor is it the same from painting to painting. The most exciting things occur when the figure, head study, or intuitive mark-makings manifest their forms on the canvas. There is a rhythm that begins to flow. This is a much different rhythm than occurs in the landscapes. This rhythm is of a more personal and private nature and it has the ability to take me to some level of spiritual experience. I believe that this experience has to do with a type of power that you don't always posses...a type of power, which comes to you after time.

Art is like my religion. My faith is in having all the elements come together to make that one good painting. These are the moments I live for.

Darren Vigil-Gray grew up on the Jicarilla Apache Reservation in Dulce, New Mexico, the son of a Jicarilla Apache father and an Oklahoma Kiowa mother. Darren left the reservation at age 15 to attend the prestigious Institute of American Indian Arts in Santa Fe, New Mexico, graduating in 1977. He went on to study art at the College of Santa Fe and the University of New Mexico. Since that time Vigil-Gray has been prominent in the Santa Fe art scene.

Vigil Gray's paintings tend towards Abstract Expressionism and are predominantly acrylic on canvas. Other mediums include oil pastels and the monoprint. Subjects include Northern New Mexico landscapes as well as dreamscape / figural compositions with mythological imagery. The artist's first mentor was the great Kiowa/Caddo painter, T.C. Cannon, who encouraged his students to "create their own mythology."

Vigil-Gray lives in Santa Fe, New Mexico, with his wife, Jill Momaday (daughter of Pulitzer Prize-winning author, N. Scott Momaday) and their two daughters.

SELECTED SOLO EXHIBITIONS:

2003
"We're Still Here With the Mountains," Group of Six Apache Painters and Sculptors, The Hubbard Museum of the American West, Ruidoso, New Mexico

2002
"Common Ground," Group Exhibition, Tucson Museum of Art, Tucson, Arizona
"Countetclockwise/20 year Retrospective," Wheelwright Museum, Santa Fe, New Mexico

1995 "Campsite," Peyton-Wright Gallery, Santa Fe, New Mexico
"The Walk," Friesen Gallery, Seattle, Washington

1994
El Mundo del Arte de Nuevo Mexico, Salon Guadalajara, Palacio Municipale Guadalajara, Jalisco, Mexico

1989
The Common Ground, New York, New York "Five Contemporary Native American Artists," The Gibbs Museum, Charleston, South Carolina

SELECTED GROUP EXHIBITIONS:

1997 The IAIA Experience, Institute of American Indian Arts Museum, Santa Fe, New Mexico
1996 Charlie Russell Art Auction, Great Falls, Montana
1993 Lollapalooza Tour, Native American Mural Project, Various U.S. cities
1990 The Art of the West Invitational, Eiteljorg Museum, Indianapolis, Indiana Art and Cuisine of the French Culinary Institute, New York, New York
1986 New York Art Expo, New York, New York
Taos Spring Arts Celebrations, Sixty Contemporary Southwestern Artists, Taos, New Mexico
Politics Now Exhibit, Reinventing Politics Symposium, Telluride, Colorado
1985
The Art of the Native American: The Southwest from the late 19th Century to the Present, Owensboro Museum of Fine Art, Owensboro, Kentucky
Los Angeles Art Expo, Los Angeles, California
Two Person Show, Sacred Circle Gallery, Seattle, Washington
1984
Haffenreffer Museum of Anthropology, Brown University, Bristol, Rhode Island
Walk in Beauty, The Festival of the Arts, Santa Fe, New Mexico
U.S. Customs House Museum, New York, New York
Quinnipiac College, New Haven, Connecticut
1983-84 Annual Indian Art Exhibition, Lincoln Center for the Performing Arts, Avery Fisher Hall, New York City, New York
1983 The Institute of the American West, Sun Valley, Idaho
Musee de l'Homme, Paris, France
1982 Armand Hammer United College of the American West, Montezuma, New Mexico
One with the Earth Exhibit, Trumball Art Guild, Warren, Ohio
The Smithsonian Institute, Washington, D.C.
Stanford University Faculty Club, Palo Alto, California
1981 Turtle Museum Premier Art Show, Niagara Falls, New York
1979 Museum of the American Indian, Heye Foundation, New York, New York
1978-79 Annual Indian Market Show, Santa Fe, New Mexico
PERMANENT AND PRIVATE COLLECTIONS:

The Heard Museum, Phoenix, Arizona
The Wheelwright Museum, Santa Fe, New Mexico
National Museum of American Arts, Washington, D.C.
Institute of American Indian Arts, Santa Fe, New Mexico
Museum of the American Indian,
Heye Foundation, New York, New York
Museum of the American West, Sun Valley, Idaho
Museum of Mankind, Vienna, Austria
Philbrook Arts Center, Tulsa, Oklahoma
Gilcrease Art Museum, Tulsa, Oklahoma
Norman Mackenzie Museum, University of Regina, Regina, Saskatchewan
The Bruce Museum, Greenwich, Connecticut
The Stamford Museum, Stamford, Connecticut
Denver Art Museum, Denver, Colorado
Indian Arts and Crafts Board, Washington, D.C.
Robbie Robertson, Santa Monica, California
Phillip Glass, New York, New York
Sylvester Stallone, Santa Monica, California
Judge Reinhold, Los Angeles, California
Peter Cetera, Sun Valley, Idaho
R.C. Gorman, Taos, New Mexico
Buffy St. Marie, Kapaa, Hawaii
Daniel Lanois, New Orleans, Louisiana
Bernard Pomerance, Galisteo, New Mexico
Kirk Hammett, San Francisco, California
Ben Kingsley, London, England
Steve Miller, Sun Valley, Idaho
Billy Corgan
Raymond James Ltd.
*




Read More