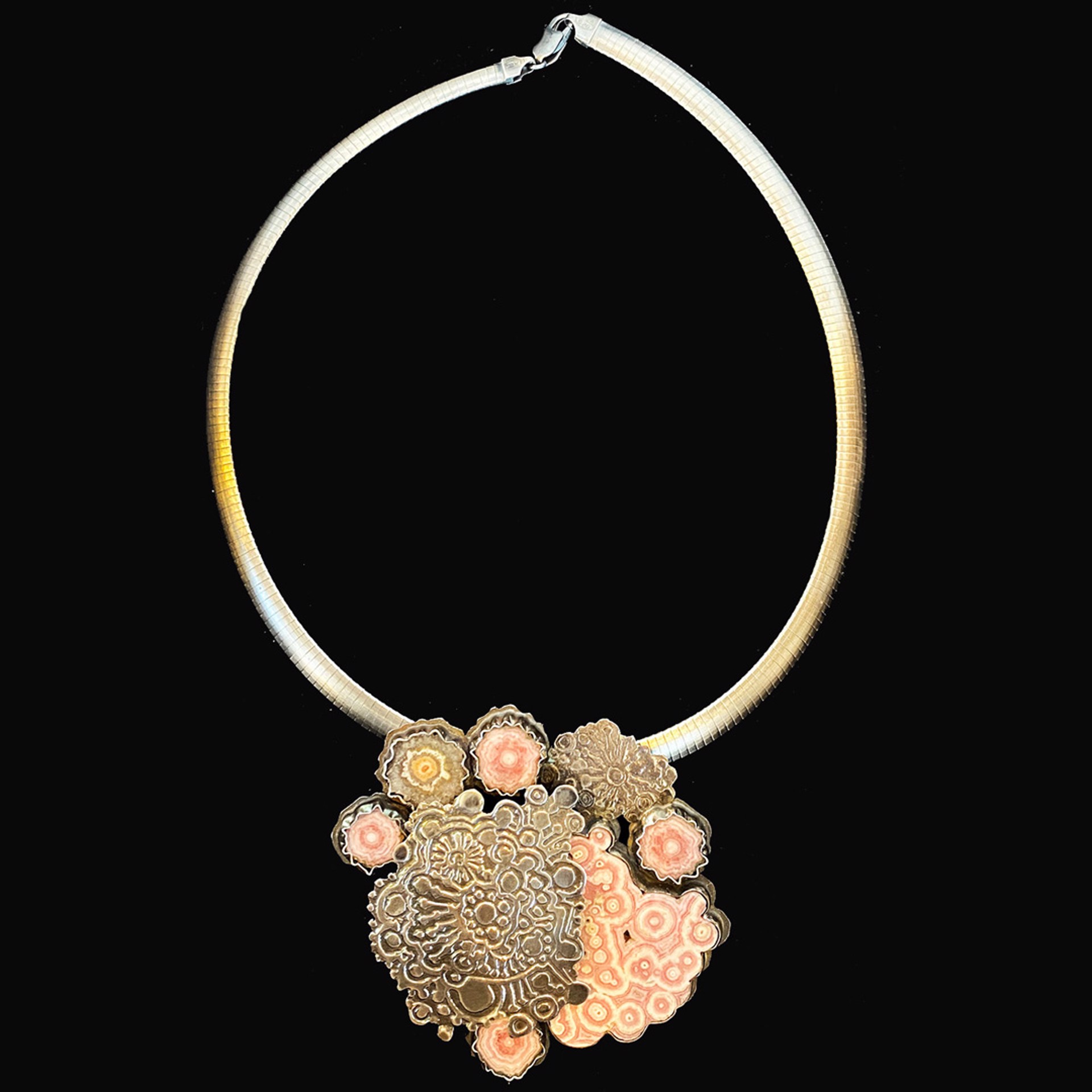 (1945 - )
A native–born Pennsylvanian, Marilynn Nicholson earned a Bachelor's Degree from Moore College of Art and Design in Philadelphia, and later received a Master of Fine Arts Degree from the School of American Craftsmen at the Rochester Institute of Technology in upstate New York. Her education has been supplemented by numerous workshops and courses, including several at The School of Jewelry Design and Silversmithing at Birmingham Polytechnic in Birmingham, England. She also studied at the Tyler School of Art in Pennsylvania and at the Worcester Crafts Center in Massachusetts. Additionally, Nicholson has completed courses in Mexico at the Instituto San Miguel.
Marilynn Nicholson has worked as a self–employed jeweler since 1973. Her career has been highlighted by exhibits in England, Germany, Japan, Israel, Switzerland, Australia, and the United States. Her extensive list of one–person shows includes exhibitions at the Victoria and Albert Museum and Goldsmiths' Hall in London, the Birmingham Museum Art Gallery in Birmingham, England, and the Heimat Museum in Idar–Oberstein, Germany. Her jewelry is also included in permanent collections in England at the Victoria and Albert Museum, Goldsmiths' Hall, the Birmingham Museum Art Gallery, and the West Midlands Art Collection at Shugborough Hall in Staffordshire.
While living in Britain, Marilynn also wrote reviews for publication in association with London's Goldsmiths' Hall and the Society of North American Goldsmith's magazine, Metalsmith. In New Mexico, she has documented workshops for the New Mexico Metals Association Newsletters and has been featured in several articles published in Lapidary Journal. Marilynn's jewelry was also included in an exhibition and book, Treasures of the 20th Century, published by Goldsmiths' Hall to celebrate the year 2000.
Since 1986, Marilynn has lived and worked as a self–employed jeweler and has taught part–time classes and workshops for The University of New Mexico, The Taos Institute or Art, Santa Fe School of Metalsmithing, Pueblo 5, The Oo–oon–ah Art Center at Taos Pueblo, The Firehouse Art Center, and The Armory Art Center. She founded the Taos School of Metalsmithing in 1986.
Marilynn continues to cut stones and make jewelry and shows at invitational exhibitions throughout the year. Recently her jewelry has been included in a lavishly illustrated wonderful book Agates II by the German author, Johann Zenz. Marilynn's work will also be included in the Lark publication, 500 Gem and Stone Jewels and in the January 2010 edition of Jewelry Artist magazine.
*
Read More